Get fit and have fun at the same time with Lisa Hillier Fitness classes…
Classes return to Biggleswade from 17th May
Classes return to Gamlingay and Sandy from 21st June
For class booking information click here: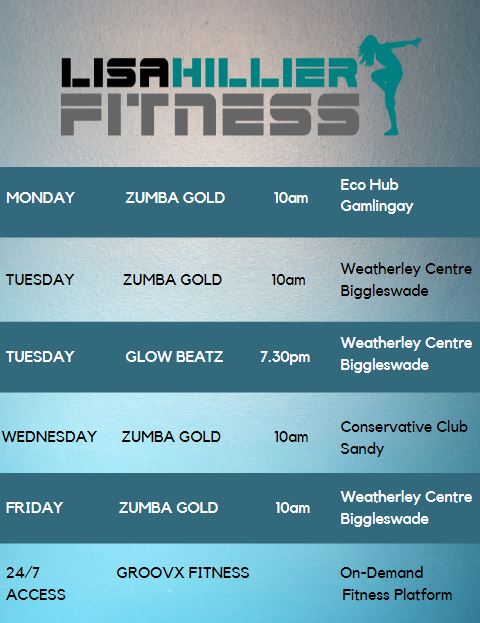 Lisa Hillier Fitness also runs an on-demand GroovX Fitness platform where you can access over 100 workouts 24/7 from the comfort of your own home.
A multi fitness format that delivers a variety of different fitness styles to keep you engaged whatever your age and ability.
( All included in your monthly membership)

GroovX Box combines boxing moves with dance to give you a dynamic and effective workout that is enjoyable and fun. Release your tension and take your stress away with punching, kicking and moving all to a steady beat. 

GroovX Dance mixes aerobics with dance to create a fun and dynamic workout that can be used to improve cardiovascular health and increase strength and endurance. 

GroovX Gold is designed for the active older adult or anyone who would like a gentler pace workout. Using low intensity moves to popular music from different genres and eras GroovX gold will get you moving and grooving! 

GroovX Latin is a latin inspired dance fitness class will have you moving to upbeat rhythms and dancing your cares away.  This class is suitable for all abilities (low and high impact options are given). 

GroovX Sculpt is a full-body workout using light weights to create resistance while performing movements to help strengthen and tone.

GroovX Flow is a slow, movement-based workout that incorporates contemporary functional movements focusing on mobility, strength and balance.  Set to relaxing music, this low-intensity workout will get you in the flow!

GroovX Stix is the ultimate way to hit and smash your way to a better you. Using drumsticks to bash out rhythms and beats with explosive dance moves.

GroovX Blast has a range of different blast classes aimed at all levels including high intensity and low intensity versions of each exercise.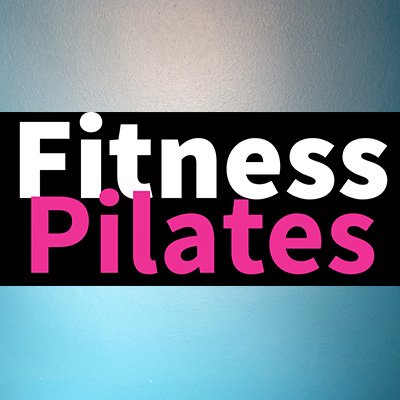 Fitness Pilates is a modern, contemporary Pilates class simplified and set to music. Fitness Pilates is a group exercise class that focuses on the body as a human kinetic chain and aims to improve posture, mobility, flexibility and core strength.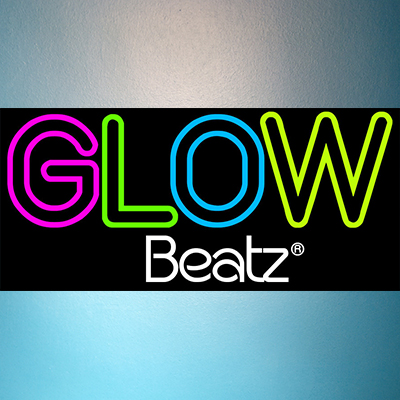 Glow Beatz
Glow Beatz is a group exercise class that uses glow sticks, club-lighting, and banging tunes from the past and present set in a darkened environment. This class is suitable for all abilities.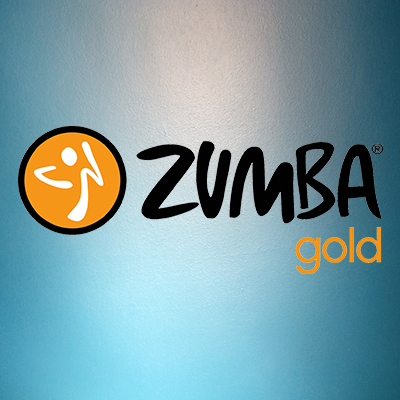 Zumba Gold is a group exercise class designed for the active older adult, beginners to fitness or anyone who is looking for a slower-paced, lower impact Zumba class that recreates the original moves you love at a lower-intensity.
GroovX On Demand Platform
Access over 100 different themed workouts for all age groups.

GroovX Dance, Sculpt, Blast, Box, Latin, Flow, Gold and Stix

Earn points and rewards.

New workouts added monthly.

Choose when you want to workout.

No contract
Classes in the Community
Mondays: Zumba Gold 10am

Tuesdays: Zumba Gold 10am

Tuesdays: Glow Beatz 7.30pm

Wednesdays: Zumba Gold 10am

Fridays: Zumba Gold 10am

Fridays: Fitness Pilates 11am

Please read back to class information before booking your space HERE
Sign Up for My Newsletter
Just pop your details in using the form below and get all the news and updates straight to your inbox! 
The information you enter into this form is being collected by Lisa HIllier Fitness and will be stored and processed electronically. Your personal details are required in order to contact you and, inform you of relevant information regarding classes and other information regarding Lisa Hillier Fitness. This forms the lawful basis under which we collect this information; without it, I cannot get in touch with you or do business with you.
By submitting this form you confirm that you understand that Lisa Hillier Fitness will store and process your personal details within GDPR guidelines.